---
"The secret of L'Arche is relationship: meeting people, not through the filters of certitudes, ideologies, idealism or judgments, but heart to heart; listening to people with their pain, their joy, their hope, their history, listening to their heart beats."
---
MISSION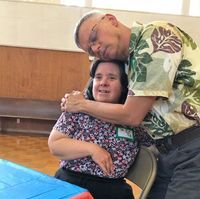 We are people, with and without intellectual disabilities, sharing life in communities belonging to an International Federation. Mutual relationships and trust in God are at the heart of our journey together. We celebrate the unique value of every person and recognize our need of one another.
L'Arche Wavecrest's mission is twofold:  to create vital, healthy, spiritually rich homes for individuals with intellectual disabilities (IDD) and to build relationships that integrate the lives and gifts of individuals with intellectual/developmental disabilities with all sectors of the wider community.  Such integration infuses civil society with true human values.  
"To work for community is to work for humanity."
PURPOSE
L'Arche is an intentional and inclusive community grounded in spirituality that celebrates, respects and welcomes the diversity of everyone's gifts: joy, dignity, love, compassion, and hope. We strive to reveal the dignity of every human being by building a community of faith and belonging where people with and without intellectual disabilities live together in family-style homes.
L'Arche is a way of life, but it's also a model of care that is unique. In our community people with intellectual disabilities are at the heart of L'Arche. They're not clients, patients, or recipients of services, but rather they are friends, teachers, and companions. People with intellectual disabilities grow through their encounters in L'Arche.  Through daily acts of care, trust, and friendship, they develop into ambassadors of compassion and leaders for social change and the common good.
HISTORY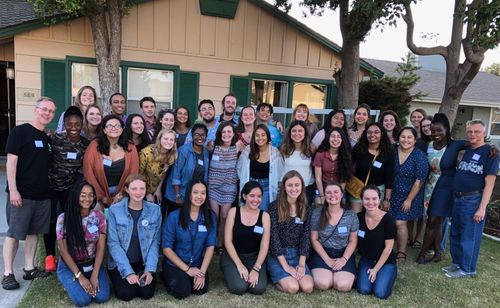 L'Arche Wavecrest, located in Orange, California, currently has two homes with eight Core Members (IDD) and four live-in Assistants.  It is the pulsating heart of a larger community consisting of families, friends, volunteers, and donors.  
L'Arche communities in the United States provide homes and workplaces where people with and without intellectual disabilities live and work together as peers; create inclusive communities of faith and friendship; and transform society through relationships that cross social boundaries.
L'Arche exists to amplify the voices of people who have intellectual disabilities; provide growth opportunities for people of all abilities; nurture the faith life of local communities; strengthen communities with resources and collaborative leadership; develop strategic partnerships; and found new communities.
Today, there are 147 communities worldwide, including 18 in the United States. The communities consist of approximately 8,000 members with and without intellectual disabilities who share their lives together in homes and workplaces. L'Arche Wavecrest opened its first home in 2006, and is the only L'Arche community in the state of California. We seek to expand our L'Arche presence in Orange County. 
Each community is a 501(c)(3) nonprofit corporation, and is governed by its own board of directors and managed by caring and professional staff. L'Arche communities are united through their membership in L'Arche USA and in the International Federation of L'Arche.
THE HISTORY OF L'ARCHE